Popular Groups & Roleplays

Group
Trouble Maker
Public Group • 1 Members
trouble makers wanted! this group makes LOTS of trouble at Hogwarts. join Auberey on a quest to make trouble!

Roleplay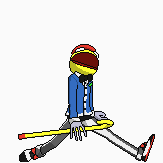 Group
Candy Gang
Private Group • 1 Members
Join the Candy Gang

Group

Roleplay
Общая гостинная Когтеврана
Public Roleplay • 1 Members
Кто из Когтеврана заходите, будем обсуждать, новости и многое другое. Присоединяйтесь!

Roleplay
Professional Quidditch
Private Roleplay • 1 Members
To join this group, you must request approval for the reason that we can only allow 15 people (14 players and 1 referee). If you are approved access to the group, you will be assigned a team and a role by I, Wulfric Grimblehawk. Please RPG!

Roleplay
Hufflepuff Spain
Public Roleplay • 1 Members
Rolpay en español para los hufflepuff uwu

Roleplay
Animal Care
Public Roleplay • 1 Members
This is so we can take care of all of our magical animals! :3

Group
Safe space 4 l.g.b.t.q.i.a.
Public Group • 1 Members
If u need aplace to talk bout ur feelings, join meh group. NO BULLIES!!! Only positive vibes