Quidditch Player of the Issue - Hazel Mia Wren
Quidditch Player of the Issue - Hazel Mia Wren
Hazel Mia Wren, the famous Metamorphmagus seeker, is our Player of the Issue. Hazel was born on January 2000 to a Half-Blood witch to a Muggle-Born Mother and a Metamorphmagus, Half-Blood Father and is the youngest player ever to make it into a National team. She currently a student at Hogwarts School of Witchcraft and Wizardry, busy with her fifth year of education.
Hazel grew up on the Isle of Arran, an Island off the South-Western Coast of Scotland near Glasgow in a remote cottage on the far side of the Island. Since the house was isolated from most Muggle Activity, Hazel was able to fly her broom regularly and learned to play on the field adjacent to her home where her father constructed three wooden Quidditch Hoops for her to learn with. It was Hazel's Mother, Ivy, who taught her to play, however, having played for Ravenclaw in her school days.
Hazel began attending Hogwarts School of Witchcraft and Wizardry in 2011 and was selceted to play for her house, Ravenclaw, in her second year - first as a Beater and then as a Seeker. Hazel states that she picked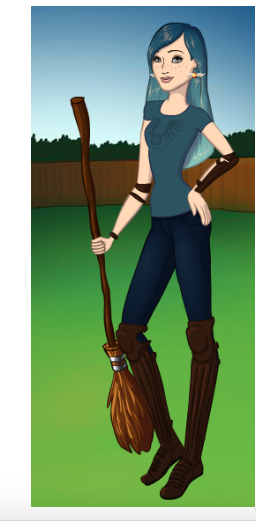 up her harsh Seeking tactics and manoeuvres from her short time as a Beater, and that she still enjoys playing Beater in non-professional games.
Aged fourteen, Hazel started playing in an unofficial league team named the Arran Sparrows in the February of 2014, playing against other amateur local teams. It was at one of these games that she noticed by the team manager of the National Scottish Quidditch Team, Jamie MacTavish, who visited her after the match and invited to play for the Scottish Team. He had been blown away by her unbelievable playing and was ectstatic when Hazel accepted the proposal and agreed to play for Scotland.
This sparked great interest among the Quidditch community, as many believed she was a risky investment for the already unstable Scottish team. However, no one had seen Hazel play before Scotland's first match of the season, vs. Luxembourg , giving the team a great element of surprise when they brought out Hazel, who played superbly from start to finish. Within the first half hour she had put Luxembourg's Seeker out of action with a cleverly-maneuvered feign and almost disposed of their reserve as well before catching the Snitch only fifty minutes into the game, saving her teammates from a losing battle against the Luxembourg Chasers. Soon, sporting newspapers and everything in between were heralding her as the "Breakout Player of 2014" and "Youngest National Player in Quidditch History", the latter being an entirely honest fact, as Hazel beat Japan's Riku Itō, who started playing for the Japanese team at the age of 16 in the 1990s.
The Scottish National Team are fast on their way to winning this year's Quidditch World Cup, and it is now considered by fans and critics alike one of the best National Quidditch Teams of the 21st century, having pulled a complete turnaround - partly because of Hazel's addition to the team. Hazel herself, however, is very down-to-earth when discussing her achievements, saying she does not consider trophies and winning the best part of competing, but simply enjoys doing what she loves.
"My aim in playing for Scotland is not to win for my country, nor to make money, not even to make my friends and family proud. Those are all added bonuses for me - very nice, but not the true reason for my love of Quidditch. For me, the best thing about competing is the feeling I get when playing, and the joy it gives me. Sometimes I get interviewers calling me "modest" and even "unaware", but I don't see why I should be proud or arrogant - no, I've overjoyed. Use that in this one, won't you?"
- Hazel Mia Wren being interviewed by the Magazine Team
That we will do. Introducing Hazel Mia Wren, Youngest National Player in Quidditch History who is overjoyed to be doing what she loves - support her in her next game on Sunday; Scotland vs. Ireland!
- Alyssa Ella Piper & Lilia Le Fay