Quidditch World Cup Match - France vs. Germany
Quidditch World Cup International Match – France vs. Germany

Greetings from the field! I am writing to give a first-hand account of one of the most exciting Quidditch World Cup games I have ever seen; France vs Germany. Even with the recent terrorist attacks, France pulled out an exciting win on the pitch.
The French seeker, Adam Fleur caught the snitch against German seeker, Adolf Wetzel. Other than Adam, their chasers are Alberte Denis, David Fabien, and Francis Gigi. They worked in harmony scoring one of the most points in their country's history.
The beater twins Irene and Isabelle pounded Germany's chasers Hans Jade, Jason Fritz, and Joel Lei. The Germany beaters Leon Lucas and Maia Luis just could not compete with the twins.
Both keepers played well, but France's keeper Morgan Nadia out played Germany's keeper Monia Francis. With an end score of 320-100 it was obvious that France was the better team, with players working in perfect coordination with each other. French team captain, Adam Fleur told us:
"It was an amazing match for us and really showed everyone that we are in it to win it!"
Germany team captain, Joel Lei, also commented, saying:
"We did not play our best but we tried, and that's all that matters. We have never come off more harshly, showing that France are truly a brilliant team."
During the game the German Feldgeister Mascots (magical wind spirits of Germany that can transform between human and animal forms) were prancing around the field as animals and humans, while the French Wood Nymphs were serenading throughout the game with their flute-like voices. The referees, Cole Johnson and Julie Lau were equal and fair to both teams. Overall both teams were competitive, but France won this round.
France showed the terrorists who's boss. #prayforparis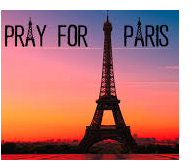 Zoey Potter