Recipes
Greetings, readers! December has finally arrived and you know what that means – endless festivities, cold weather, gingerbread and peppermint on everything, big home gatherings, among many other things. We cannot deny the fact that this is perhaps the most cheerful time of the year with celebrations like Christmas, Hanukkah, Eid Al-Fitr, Omisoka, New Year's Eve, Kwanzaa, and the list goes on! Although debatable, the most important part of this holiday season has to be the coming together of family and friends under a single household for dinner and exchanging of presents or memories from times spent together. In honor of such warm and memorable reunions, I have come up with two delicious menus that will satisfy you and the whole family during this joyful month. All from Main courses to drinks, here are six simple, yet delicious holiday recipes:
Roasted Tarragon Lamb with Butter Beans and Roast Potatoes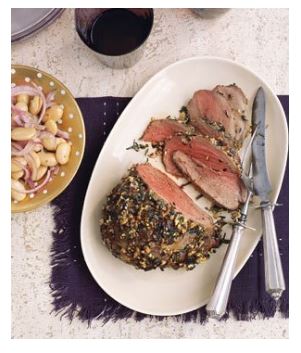 Part I: Roasted Tarragon Lamb with Butter Beans
INGREDIENTS:
1 1⁄4 lbs. top round lamb

Kosher salt and pepper

3 garlic cloves, chopped

1 tbsp. dried tarragon

4 tbsp. olive oil

1 red onion, thinly sliced

2 (15 oz) cans butter beans, drained and rinsed
METHOD:
Preheat oven to 400 F.

Season the lamb with 1 teaspoon salt and 1/2 teaspoon pepper. Place the lamb in a roasting pan.

In a small bowl, combine the garlic, tarragon, and 1 tablespoon of the oil.

Rub over the lamb and roast, 25 to 30 minutes for medium-rare. Transfer to a cutting board and allow your enchanted knife (if available) to slice.

Meanwhile, heat the remaining oil in a skillet over medium-high heat. Add the onion and cook until soft, about 4 minutes.

Add the beans, 1/2 teaspoon salt, and 1/4 teaspoon pepper and cook, stirring, until heated through, 3 to 4 minutes. Serve with the lamb.
Part II: Roasted Potatoes
INGREDIENTS:
6 – 8 large floury potatoes, peeled and cut into halves

Sea salt

Few sprigs of fresh rosemary

Canola oil
METHOD:
Preheat oven to 392 F.

Add 1/3 cup canola oil to a large baking tray and place in the pre-heated oven to heat the oil.

Half-fill a large pot with cold water, add a generous pinch of salt, add the potatoes and bring to the boil over high heat. Par boil until slightly softened.

Drain potatoes then return them to the pot, cover with the lid then give the pot a good shake to roughen up the edges of the potatoes and encourage them to become really fluffy. If you like, use a fork to fluff up the tops of the potatoes.

With a lifting spell, pick up the par-cooked potatoes and add them into the hot oil in the baking tray and season tops with a sprinkling of sea salt.

Scatter some rosemary leaves around the tray then roast potatoes for 1-1¼ hours or until they are super crunchy and crisp.
[Vegan] Roasted Seitan, Peppers, and Portabellas with Quinoa Almond Pilaf
Part I: Roasted Seitan, Peppers, and Portabellas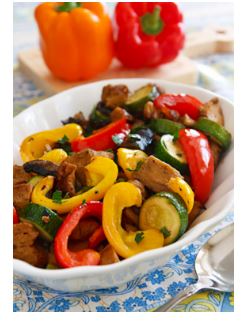 INGREDIENTS:
2 pounds seitan cut into bite-sized chunks

1 red bell pepper, cut into wide strips

1 yellow bell pepper, cunt into wide strips

2 medium-small zucchinis, sliced ½ inch thick

8 – 10oz Portobello mushrooms, stemmed and sliced

2 tbsp. olive oil

½ cup teriyaki marinade

3 – 4 scallions, thinly sliced

Freshly ground pepper to taste

Dried hot red pepper flakes (optional)

¼ minced fresh parsley
METHOD:
Preheat oven to 400 F.

In a large mixing bowl, combine the seitan, bell peppers, zucchinis, olive oil, and teriyaki marinade. Stir together. Transfer to a roasting pan.

Roast in the oven for 15 minutes, stirring occasionally. Stir in the scallions, then roast for 5 to 10 minutes longer, or until the seitan and vegetable are touched with charred spots.

Transfer the mixture to a serving container. Season to taste with pepper and optional pepper flakes. Sprinkle with parsley and keep covered until serving.
Part II: Quinoa Almond Pilaf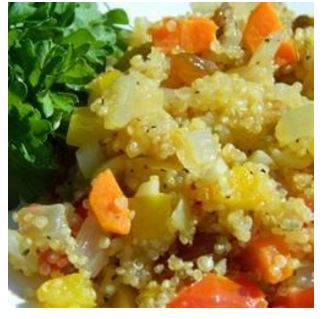 INGREDIENTS:
½ cup quinoa

1 cup cold water

¼ tsp. salt

3 tbsp. olive oil

1 celery rib, chopped

1 small onion, chopped

1 carrot, chopped

1 clove garlic, chopped

8 almonds, coarsely chopped

1 small tomato, seeded and chopped

2 tbsp. raisins

1/8 tsp. salt

1/8 tsp. ground black pepper

1/8 tsp. dried thyme

1/8 tsp. dried oregano

1 pinch coarse sea salt
METHOD:
Combine quinoa, cold water, and salt in a saucepan. Bring to a boil, reduce heat to medium-low, place cover on the saucepan, and cook until the liquid is fully absorbed, about 15 minutes.

Heat olive oil in a skillet over medium heat. Cook and stir celery, onion, carrot, and garlic in the hot oil until the onion is translucent, 5 to 7 minutes. Stir almonds, tomato, raisins, salt, pepper, thyme, and oregano into the vegetable mixture; cook and stir 1 minute more.

Fluff the quinoa with a fork and stir into the mixture in the skillet; cook and stir until evenly mixed and hot, about 30 seconds.

Serve and sprinkle the top of each portion with a scattering of a few coarse sea salt granules for a surprising crunch of salty goodness.
Peppermint Chocolate Cake with Peppermint Buttercream Frosting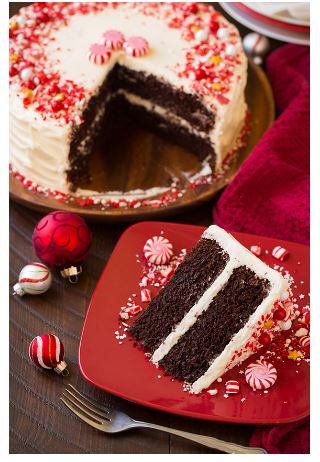 INGREDIENTS:
1 ¾ cups all-purpose flour

2 cups granulated sugar

¾ cup unsweetened cocoa powder

1 ½ tsp. baking soda

1 ½ tsp. baking powder

¾ salt

1 cup vegetable oil

2 large eggs

1 tsp. peppermint extract

1 tsp. vanilla extract

1 cup boiling water

Crushed peppermint candies
For the frosting:
METHOD:
Preheat oven to 350 F.

Butter two 9-inch round baking pans and line with a round of parchment paper.

Lightly dust pans with cocoa powder, shaking out excess and set aside.

In a large mixing bowl, allow your bewitched whisk to mix together flour, sugar, cocoa powder, baking soda, baking powder and salt for 20 seconds.

Add the buttermilk, vegetable oil, eggs, peppermint extract and vanilla extract and continue to blend/whisk mixture until fully combined. Mix in the boiling water.

Divide batter evenly among prepared baking pans. Bake for 30 – 35 minutes, then transfer to wire racks to cool with a quick Frigidus Aura.

Frost with Peppermint Buttercream frosting.
For the frosting:
In a deep mixing bowl, whip butter until pale and fluffy. Add in 3 tablespoons of heavy cream, the peppermint extract, vanilla extract and 1 cup of powdered sugar. Cast Miscere and mix until combined.

Add remaining powdered sugar and mix until mixture is light and fluffy, while summoning the additional cream, ½ tablespoon at a time to reach the right consistency.

Once finished, cover the cake with the frosting and the crushed peppermint candies before serving.
Grinch Punch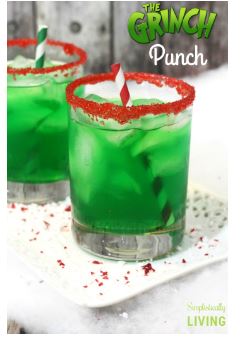 INGREDIENTS:
4 cups pineapple juice

1 packet lemon-lime fruit drink powder

2 cups sugar

4 cups water

6 oz limeade concentrate

Ginger ale or green citrus soda
METHOD:
Mix all the ingredients, except soda, together in a deep bowl then transfer to a large plastic container. Freeze with the Glacius spell.

Once frozen, scrape contents into a glass then add a splash of ginger ale or green citrus soda. Enjoy!
That concludes this week's Culinary Section! Wishing deeply that you and all your loved ones can enjoy this wonderful Holiday special as the end of the year approaches. Have a happy month of December, everyone!
Tabitha Langdale