❝ legend had it that there is a girl. a small girl with facial features of a fourteen-year-old. but don't tell her, she'll kick you where it hurts ❞
Joined January 2019
Member of Slytherin
0 House Points
1st Year
United States
Backstory
<font color=#df0101> <font face=times new roman>
<center>
backstory
━━━━━━━∘◦☆ミ ◦∘━━━━━━━
<font size=7>❝ <font size=3>
legend had it that there is a girl. a small girl with facial features of a fourteen-year-old. but don't tell her, she'll kick you where it hurts most, physically and mentally.

ayll telto. seventeen and a half. not eighteen, not seventeen, but seventeen and a half. born september twenty-third, 1991 to parents that died only two weeks after her birth. she was two weeks and three days old! what was she supposed to do? the girl went into foster care and thankfully got adopted a week later by a loving family. well, after five years, they weren't so loving. food in their house was scarce and ayll's foster parents had already had another kid, meaning that the child that was genetically related to them was worth more. ayll did get fed, eventually. it took a while. she got scraps and peanut butter sandwiches. finally, her five-year-old brain caught up with what was happening, and on her sixth birthday, poor miss telto ran away. thankfully, she was smart enough to go to the police and tell them her story.

now that the young girl was in foster care, she was slowly getting fed more and now she didn't look like a skeleton.

many months later, in late august, a young couple came along and adopted the poor girl. ayll immediately fell in love with them, the woman looked to be about twenty-two and the male, twenty-three. they told the six-year-old that their names were avery and liam, but she could call them mom and dad, or whatever she pleased. soon, her seventh birthday came along and she received the greatest gift ever, a book. at the time, ayll wasn't doing to strong in school and didn't know how to read. on weekends, she would learn how to read. slowly, she did it. her grades improved with a smile and she felt good.
when she hit eleven in 2001, about a day after, she noticed a letter addressed to her in green ink. she giggled at the fancy handwriting and peered inside. she quickly read the note and then ran to the living room saying, "mom! dad! look what i got!" she read it out loud with little stutters and watched avery's mouth drop and liam look temporarily paralyzed.
like the loving adoptive parents they were, avery found herself driving to wherever they could find this nonsensical gear. a pawn shop, perhaps? actually, they got a hint from someone. it lead them to diagon alley, which was packed with wizards. they traded currency and bought what they all needed, and about a week later, packed ayll's bags and waved goodbye on platform 9 and 3/4

lately, ayll telto has been keeping to herself with her books. she enjoys transfiguration and potions. she seems to be liked by a lot of people, but she never likes them back.
<font size=7>❞
<font size=5>
━━━∘◦☆ミ ◦∘━━━

ayll telto

xvii

slytherdoor

rude

closed off

sarcastic


━━━∘◦☆ミ ◦∘━━━

faceclaim: clairo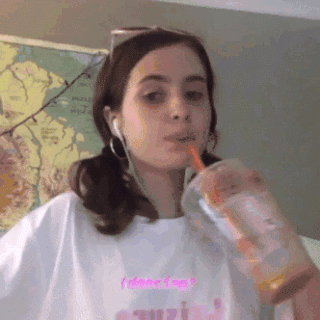 what a cutie

━━━∘◦☆ミ ◦∘━━━
<iframe width="100%" height="166" scrolling="no" frameborder="no" allow="autoplay" src="https://w.soundcloud.com/player/?url=https%3A//api.soundcloud.com/tracks/344050329&color=%23d4b4b4&auto_play=true&hide_related=false&show_comments=true&show_user=true&show_reposts=false&show_teaser=true"></iframe>
━━━∘◦☆ミ ◦∘━━━

<font size=6>
⁏ roleplay rules ;

<font size=5>
no astericks
no godmoding
no romance
third person
at least three sentences.
good grammar.
you do not control my character.


fail to follow these rules and i will stop responding.



━━━∘◦☆ミ ◦∘━━━