Before taking their exams, all students are required to convene in their regular classroom for some last minute information. Professor Virneburg is distributing some good luck chocolate to the Fifth Year Charms students.
I know that you are all very nervous, so I will keep this information session as quick as possible. Please take a short moment to settle down and take a deep breath. Of course you are nervous, but it is important that you pay attention, as I am about to explain the procedure of these exams and the eligibility criteria for the Charms N.E.W.T. class to you.

The O.W.L. examination consists of two parts: a theoretical exam as well as a practical test. You will need to pass both of them in order to advance to Charms N.E.W.T. classes.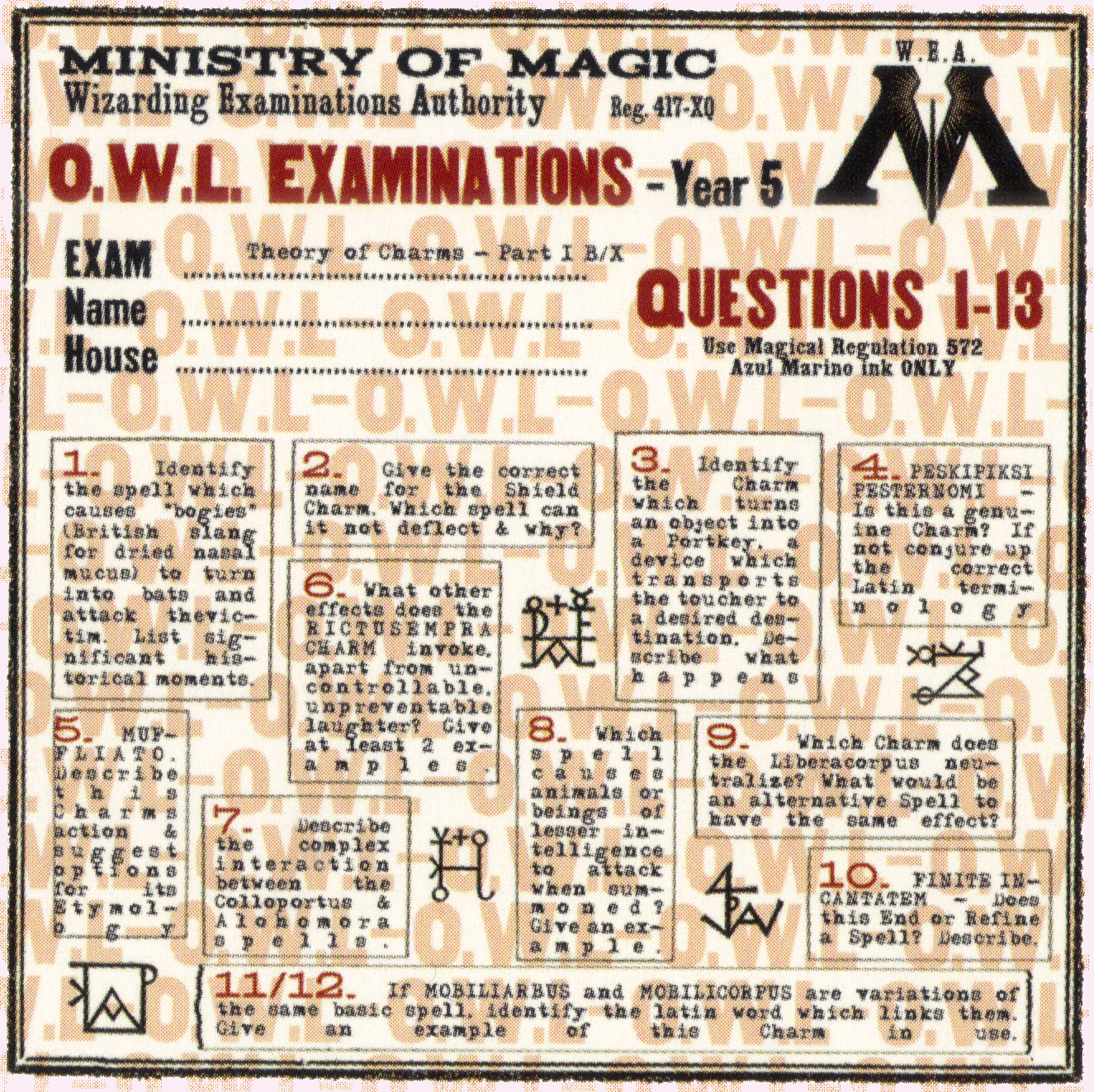 The theoretical part is just like any other final exam that you have written so far, albeit more detailed and a bit longer. You will have to answer questions from all five years of your magical education, both easy and hard. There will be all possible types of questions: multiple choice, short answer, as well as true/false. The exam is relatively long as you will need to answer 100 questions about the theory of Charms. Be mindful of the time so you can complete all aspects in the allotted time frame of two hours! You have all studied hard, and I am sure that you will all do your very best.
After that, there is a quick practical examination that you have to complete. The practical is split into two essays. This is actually an advantage for you, as it means that you may take a short break in between. I will not give away any details yet, but the two parts consist of an obstacle course and a short presentation afterwards.
I trust that none of you will fall prey to the temptations of cheating, but let me issue a short warning: Just like in any other examination, cheating is not tolerated for your O.W.L. exams. Strict measures are used to prevent academic dishonesty of any kind. Auto-Answer Quills, Remembralls, Detachable Cribbing Cuffs and Self-Correcting Ink are all banned from the examination. You will be provided with Anti-Cheating Quills, and Anti-Cheating spells will be applied to the Great Hall as you take your examination. Nevertheless, there are some students who will still attempt to cheat. As your O.W.L. exam is an external, final examination, there won't be any automatic retakes. To retake your O.W.L., you will need to contact me to discuss this further. Rest assured that failed attempts at cheating won't count.
To continue Charms as a N.E.W.T. course, you will require an Exceeds Expectations (80%) or better on your O.W.L. As you have succeeded in your classes so far, I am certain that you will pass your exams satisfactorily.
It is hard to believe that it's already time for you to sit your O.W.L. exams! How the time flies. It has been an absolute pleasure to teach you for the last five years of your magical education here at Hogwarts, and I look forward to welcoming you to my N.E.W.T. classes. Thank you for all the amazing effort you put into your assignments; I have enjoyed every moment of teaching you. As for now, I want to wish you the best of luck on your exams. You're nearly there - give it everything you've got!
Know that I and all other professors are behind you, cheering you on.
Best of luck on your Charms O.W.L.!
Professor Cassandra Virneburg

Image source: here